10 November 2020 – Cool poster for a cool talk
This is one of the nicest seminar posters I've ever seen!  Nicola is giving a departmental seminar (virtually) in Biology at Laurier University on lucky  Friday the 13th.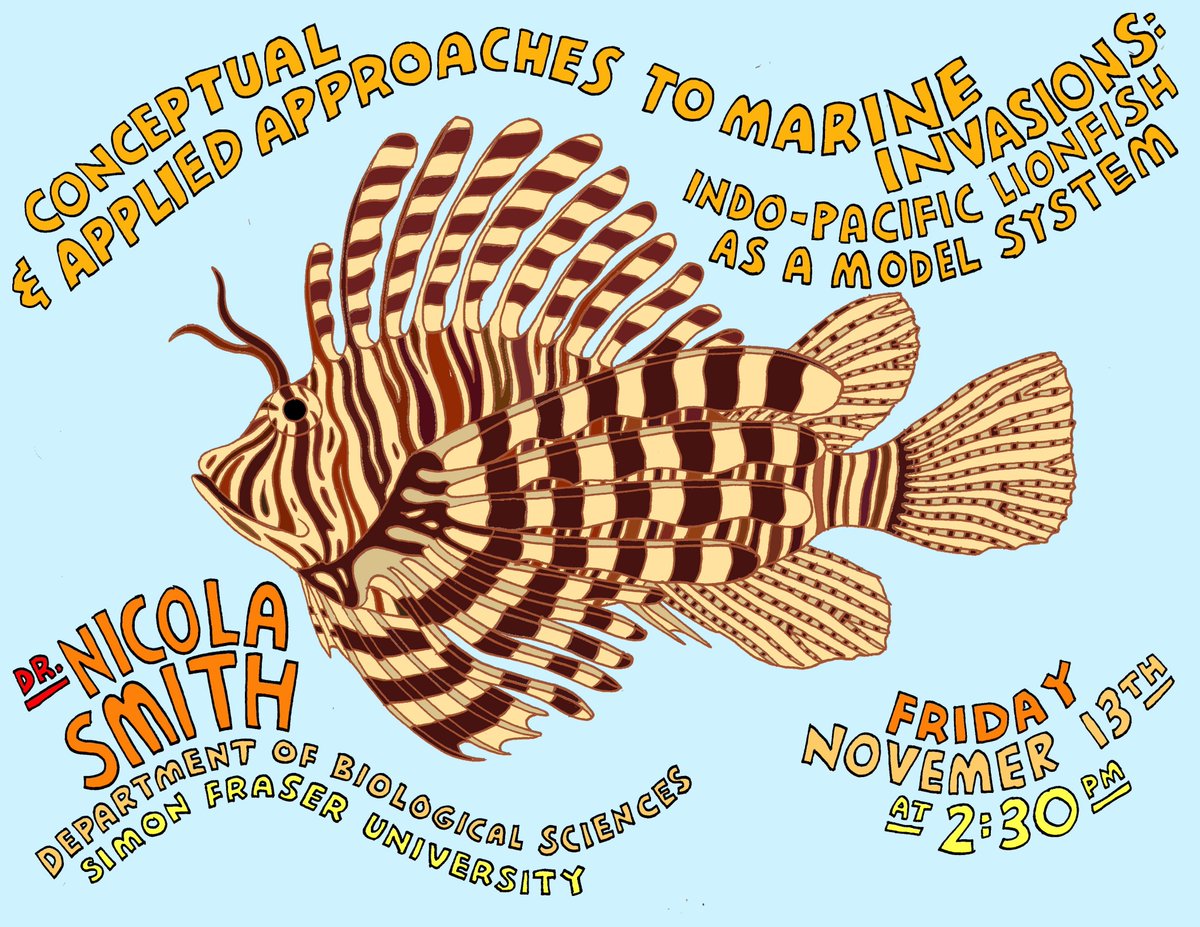 26 August 2020 – Em gets a new toy
29 July 2020 – Surprise convocation for Nicola
Nicola should have had her PhD convocation this Spring, but the event was cancelled. So the lab gathered (in COVID-compliant way) at Trout Lake to throw her a surprise convocation!
In keeping with SFU's Scottish tradition, a bagpiper announced Nic's arrival, much to the delight (?!) of other folks that were relaxing (at least until then) in the park. Hannah opened the proceedings with a cheeky welcome from a nifty podium. Then Nic discovered that her entire family from The Bahamas was also in attendance via Zoom.
Nic got to wear a gown of the right colour (= a bed sheet) and I got to hood her, just like in the real ceremony (except with a COVID mask and a hand-sewn hood but close enough).  She received her PhD certificate and some flowers. There were more speeches, more bagpipe, and then some bubbly(non-alcoholic coz Vancouver park laws…), opened with… sunglasses.
Congrats Dr Smith!!
28 April 2020 – Crystal wins a travel grant…
… for a conference that won't happen, but luckily she can use it next year when the International Coral Reef Symposium is held in Bremen. Congrats Crystal!
15 April 2020 – This is our life now…
16 March 2020 – Remote is the word
SFU shifted to remote teaching, with everyone asked to stay home as much as possible.  Let's see how this new normal works out…
14 February 2020 – We meet again, nearly 40 years later!
At the UVic symposium in honour of the great Verena Tunicliffe's retirement, I
reconnected with Dr Henry Reiswig – 'Professor Sponge' – who taught me Invert Biology in my second year at McGill University and who inspired my love of marine critters.  He's still naming new species of sponges.
5 February 2020 – Joining us soon…
Last week I was accepted into @SFUBioSci's Masters of Science program and I just accepted my offer I'm going to be a grad student!!! pic.twitter.com/yagehIUTjk

— Em Lim (@sea_en_emily) February 5, 2020
https://platform.twitter.com/widgets.js
25 January 2020 – Heaps of laurels at IDEAS!
Clean sweep for TMEL for long talks at the IDEAS Symposium today!!  Hannah took home the Golden Antlers for her amazing talk on sea cucumber movement. She got stiff competition from Melissa, who was runner up.
13 January 2020 – Let's have a Conversation about… sound
My piece on whether scientists can use sound to bring coral reefs back to life appeared today in The Conversation.
ARCHIVES